An appealing design, vivid animations and dynamic pictures introduce the adidas annual report 2022. Stakeholders delve into the adidas brand world while discovering what happened in the last financial year.
The full-HTML report is at the heart of adidas' reporting strategy. It does not only contain the whole content of the audited report, but it also includes special online only pages. As lead agency, nexxar is responsible for the creative concept of the online report and the design of the PDF version. Also, we take on the implementation of the online version and provide videos for the social media communication on LinkedIn after the go live. In collaboration with adidas, we focus on the best possible usability and user journey, an online-specific information design and digital storytelling.
Process

Services we provided

Consulting
Design concept & programming
Motion design
PDF design
PDF layout support

Features

Topic filter
Chart generator
Dashboard
Stories
Special pages introducing Board members
Social Media assets
See it live
The photographic concept
Allowing for blur and movement, the photographic style embraces the moment.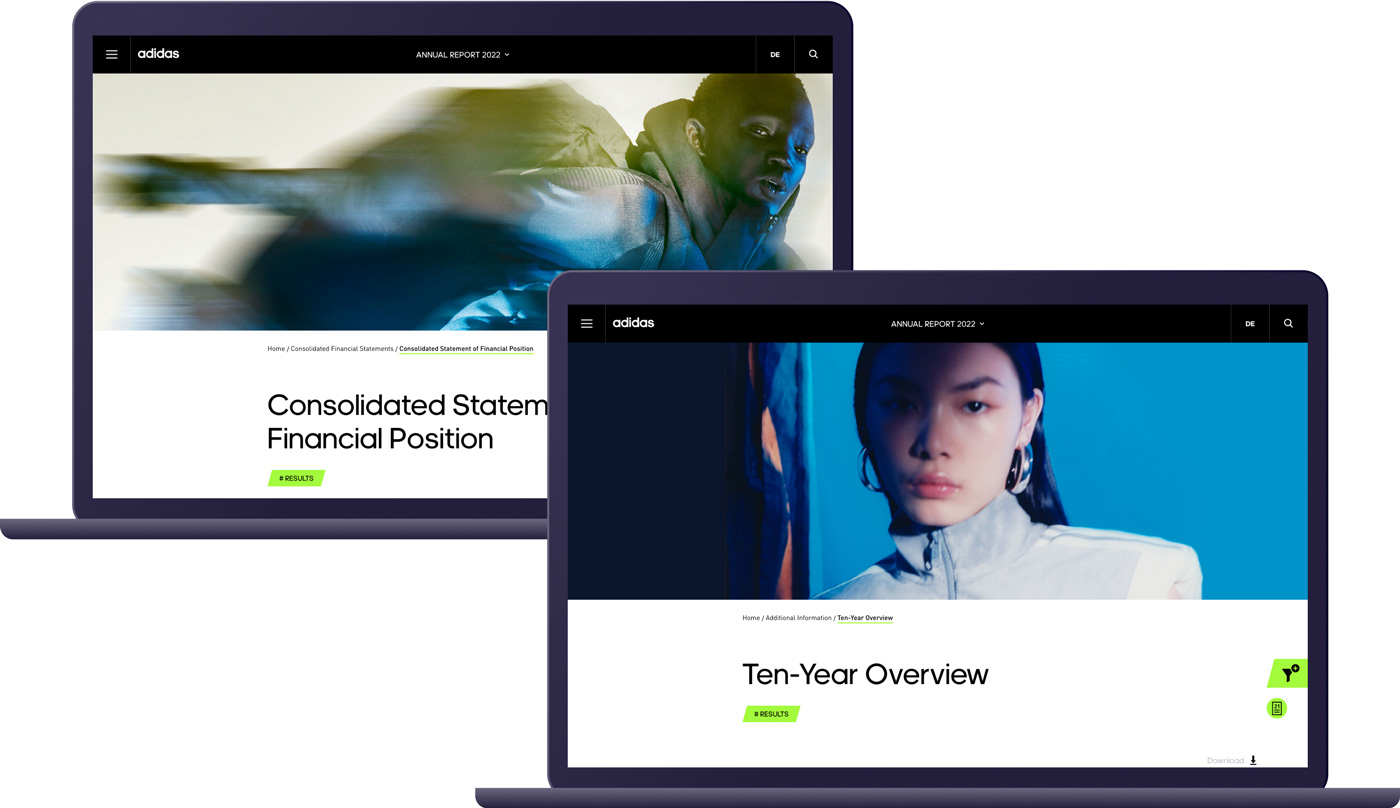 Snackable content
The dashboard is the favourite online only page of the report according to statistics. Inspired by Instagram stories, it provides short facts and figures about the last financial year, so-called snackable content that gives an overview of major topics covered in the report. If users want to know more about one topic, they can jump to the addressed content in the annual report by clicking on a link.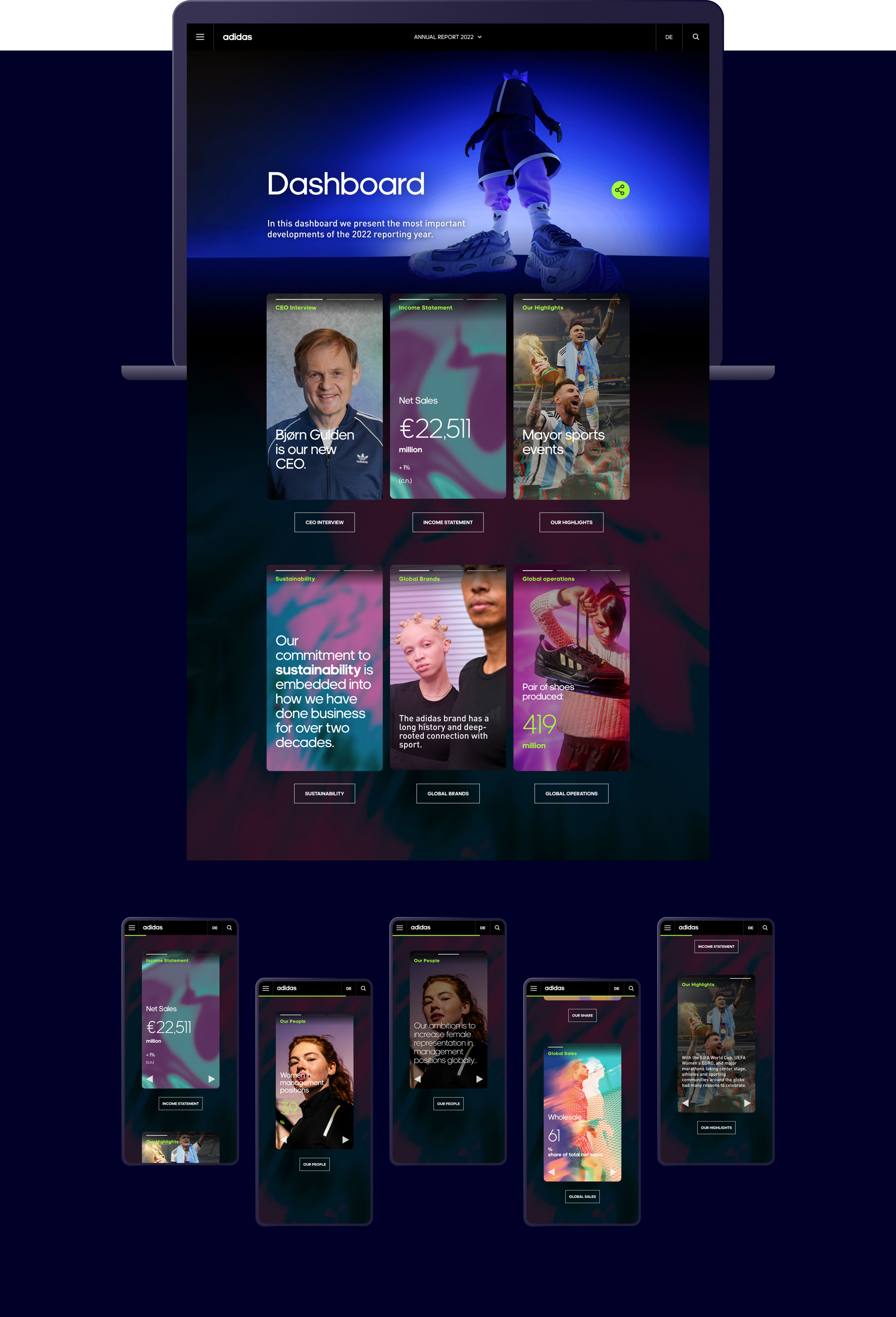 Highlights of the year
The highlights pages look back on special products and events of the last financial year. Full screen pictures and videos transmit the company's brand spirit and do not only address the financial community, but also other stakeholder groups, such as employees or applicants. This content is only available online.
Simple PDF design
As the focus lies on the online version of the report, the portrait format PDF design is true to the motto "keep it simple". Using a disclosure management system, adidas prepares the Web-PDF by themselves. nexxar creates the cover page, offers support when questions regarding the layout pop up and brings the PDF to perfection at the end of the process.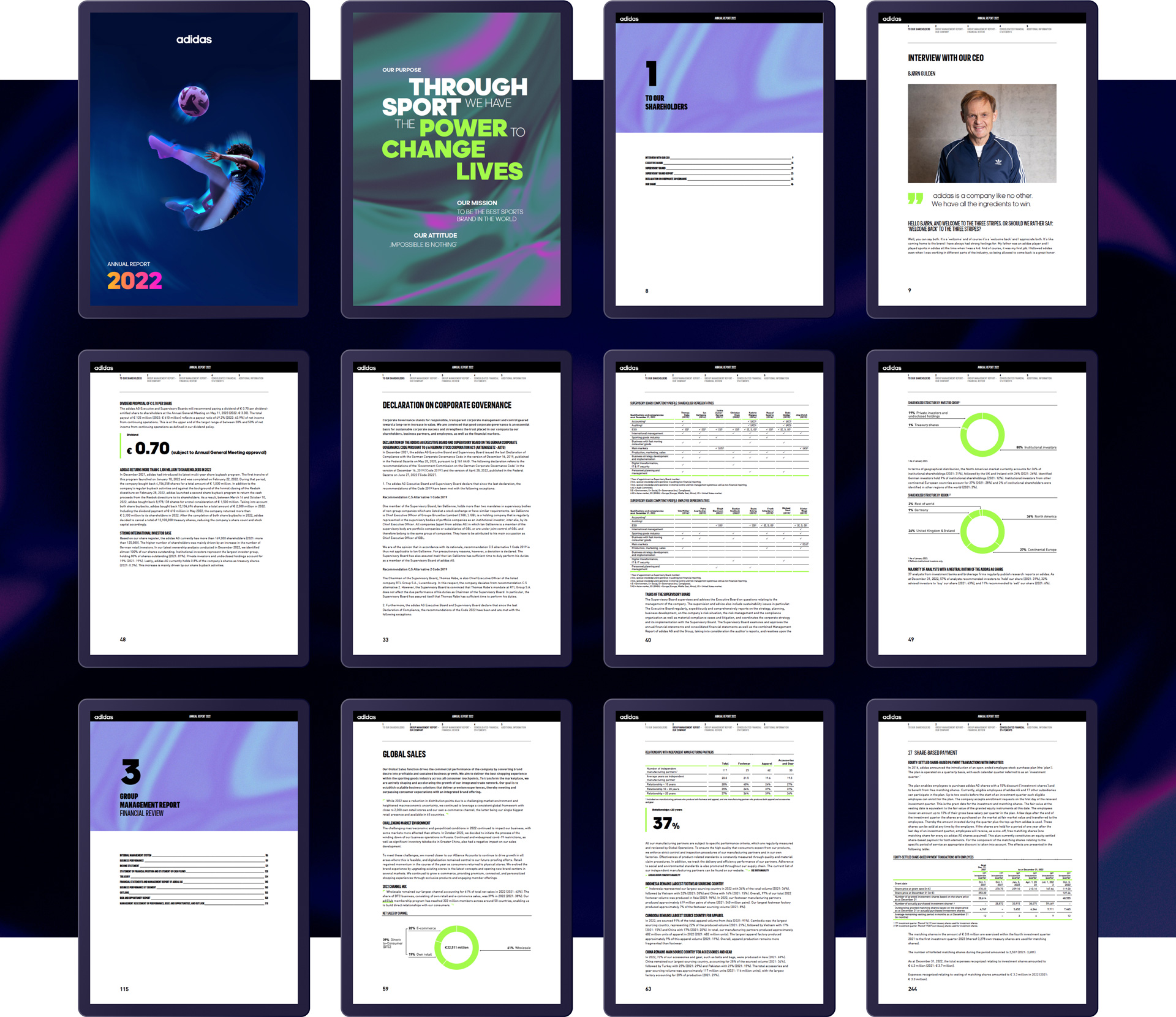 How to make the annual report visible
In order to inform your stakeholders where to find the annual report in a digital version, you've got to make your report visible on various channels. adidas knows about this need and accomplishes it by using two strategies: on the one hand, they publish postings regarding the annual report on social media (e.g. a video about the most important KPIs) and link to the online version of the report. On the other hand, they prominently link the online report on their corporate website. Both strategies help to increase the number of page visits to the digital version of the annual report.